South Wales Swiss
Sunday 31 July
From 2pm
at John & Ruth's garden in Swansea
To celebrate the Swiss National day on 1stAugust, we are having
an open garden for the Swiss & family & friends at our house
The last such event was in 2019, when we spent a lovely afternoon celebrating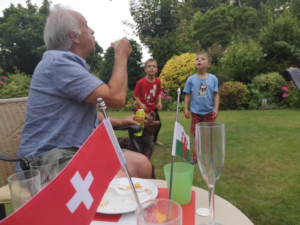 It's a BYO event (bring your own)
• EITHER bring a salad OR something sweet to put on the table to share.
• Your alcoholic drink. (soft drinks for the kids are available)
• John & Ruth will provide a welcome drink and sausages for the BBQ (not Swiss, I am afraid)
• IF you don't like sausages or you want to bring your own choice of meat or veggie option, bring it along and John will grill it for you)
Highlights
For the adults
authentic Swiss accordion music provided by Sonja Watkins, who is originally from Lucerne. Thank you, Sonja!
For the children
waterslide & giant air bubbles
If the weather allows it, the children can have fun with a water slide and giant air bubbles. (Bring swimsuits for the kids)
If you have some garden games for kids, bring these along, please.

RSVP
for catering purpose as soon as possible please, but by 23 July '22 the latest.