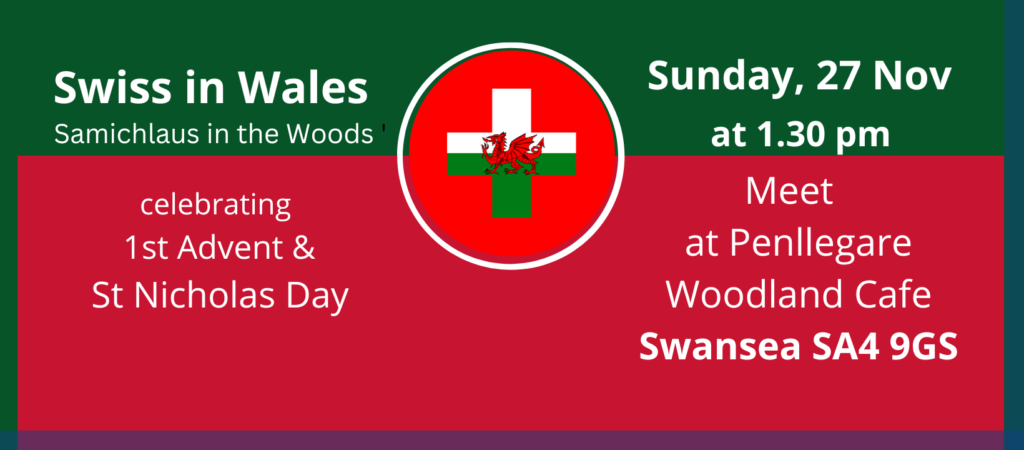 This event is not a public event. It is exclusively for members of the South Wales Swiss Society, by invitation only & RSVP required. WE ARE NOW FULLY BOOKED
Due to the Coronavirus restrictions in November/December 2021, the annual Pre-Christmas event of the Swansea Swiss could not take place indoors. We therefore decided to hold the event outdoors. What better place to go to than Penllegare Valley Woods! We enjoyed it so much last year that we decided to hold our Samichlaus event 2022 again at Penllegaer Valley Woods Swansea SA4 9GS. See directions on their website here.
We will meet on: SUNDAY 27 November 2022 (1st Advent)  at 1.30pm at Penllegare Valley Woods CAR PARK next to the woodland Cafe
The event on the 27th is for all the family. Dogs are very welcome too!
Penllergare Valley Woods is a magical place, situated just minutes from Junction 47 of the M4 near Swansea in South West Wales. It is maintained and run by the Penllegaer Woodland trust. The Cafe is run by volunteers and all proceeds benefit the maintenance of the woodland.
Note about parking: there is plenty of parking by the Cafe. Parking costs £2 and can be paid by card or coin at the parking machines. (Proceeds of the parking fees go to the Woodland trust). The barriers for the car park are locked at 5pm. 
Programme:
After meeting at the car park we will do the same woodland walk as last year. It is an easy, straight walk, suitable for small children. The path is well maintained by the Woodland Trust, but might obviously be a bit wet (good shoes or wellies. (If it is pouring with rain we have to assess, if we go on the walk at all or just stay at the Cafe and Samichlaus comes and visits us there.
Weather permitting we will decorate a tree. Please bring old Xmas deco or tinsel with you. 

After the walk:
Those of you with children can go and see Samichlaus at his hut near the Cafe.
Those of you without children could go straight back to the Cafe. This would help the cafe staff not having to deal with all orders at once. It is only a small cafe with limited facilities and few staff. 
We should all be back at the Cafe at ca. 3pm the latest. Last orders are at 4pm when they beginn to shut, but we can remain a bit longer, if we want. Note: the car park shuts at 5pm 
At the outdoor Cafe:  There is no picknick allowed (obviously)
The Cafe manager is giving our group a special deal: Hot Drink & Cake for £5 per person.
Available drinks in the deal are: Coffee, tea, hot chocolate, hot mulled punch (non alcoholic) 
Available cakes: There is quite a choice of different cakes, also scones, Stollen, Pannetone, Welshcakes etc Note: they don't do toasted sandwiches, or other other hot food
There is a selection of chilled drinks available and sweet biscuits like Gingerbread men, KitKat etc  for the children. These are priced individually. 
IMPORTANT for PARENTS: BRING a WRAPPED & LABELLED PRESENT for your child. The Santa Clause bag will be ready at the Cafe and you can discretely drop the present into the red bag BEFORE the walk. (The bag is then picked up by Samichlaus)
NOTE: The Cafe shuts at 4pm, we are allowed to stay on a bit but the carpark at 5pm
Should you wish more info please email Ruth
Some photos taken at last year's 1st Advent event